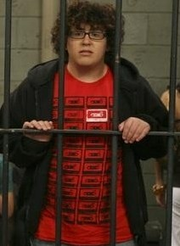 Woody Fink is a fictional character played by Matthew Timmons in The Suite Life on Deck from Cleaveland, Ohio.
http://
Woody Fink is Cody's roommate aboard the S.S. Tipton and one of the students attending Seven Seas High. He can fart classic rock, including Stairway to Heaven and has eleven toes (eight toes on one foot and three on another) and is the fourth notable producer of London Tipton's webshow, Yay Me! Starring London Tipton.
He is Cody's opposite as he is messy, unorganized, and seems to have bad grades. He is the only student at Seven Seas High School to have lower grades than Zack Martin (as stated by their teacher Miss Tutweiller).
http://
In Flowers and Chocolate, London called him Woodford and claimed he was her butler.
In Ala-ka-scram! he goes by the name Trash Fink a parody of Guns and Roses guitarist Slash
http://
Woody had a crush on Addison in International Dateline who also showed she might be interested in him. He later takes Home Ec in Kitchen Casanova in an attempt to flirt with her.
He also has a crush on Chelsea Brimmer in Flowers and Chocolate.
http://